Types of Angle Valve
Angle valves are devices that help in controlling the flow of water.
They are used in a variety of industrial applications and public utilities. In addition, angle valves are used to control pressure and level.
An angle valve is usually made of metal and can be connected to copper or iron pipes. Some valves are made of plastic, while others are stainless steel. The best material for an angle valve is copper. This metal is durable and lasts for a long time. It also has an appealing look. Compared to other materials, it has a higher resistance to corrosion.
In some cases, angle valves are connected to the tank bottom for drainage. This is done to prevent backflow of contaminants into drinking water. Also, angle valves are used for plumbing in areas with limited space. Most angle valves are connected to a faucet or supply line. These are commonly found in water closets and bathtubs.
A common type of angle valve is the ball valve. It is made of a metal or plastic ball and a handle that is turned perpendicular to the supply line. To shut off the flow of water, an angle valve requires a quarter turn.
Another type of angle valve is the angle seat valve. This is a piston-operated 2/2-way valve that regulates the flow of many fluids. Normally closed, this type of valve offers low pressure loss and has a high cycle life. Other types of angle valves include the solenoid and electro-pneumatic.
When purchasing angle valves, make sure that you are getting a reliable and efficient valve. For example, if you plan to use your valve in a water-based system, then you should choose a model that has NPT threads and a smooth radius outlet. That means less strain on the fittings and less clogging.
Another type of angle valve is the spring-loaded compression angle valve. This is a useful device for transferring compressed fuels. It is also used in chemical and mineral processing. You can get these types of valves from several manufacturers.
Finally, there are the flanged and cage-style angle valves. These valves are available in a variety of designs. However, they are typically connected to the supply line by a threaded connection. Using a threaded connection is easier than using a compression fitting.
If you are going to use an angle valve, you can find the right type from the various distributors that supply these valves. Choosing the right model will help you to reduce your operating costs. One way to do this is by choosing a model that has a nominal diameter (DN) that helps you to select the correct size.
Whether you need an angle stop valve or a valve for a plumbing application, you can find one that works for you. Several manufacturers offer these valves and you can contact them for more information.
Angle valves are crucial components of plumbing. They are designed to be durable and resistant to dirt and debris.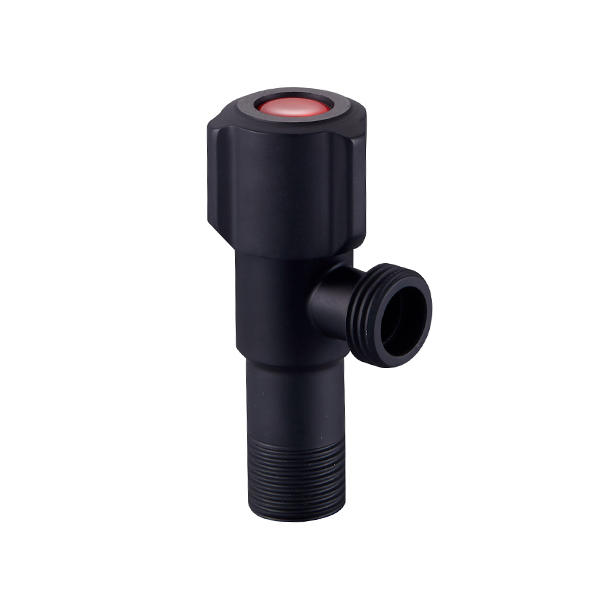 Good quality sus  angle valve in black color